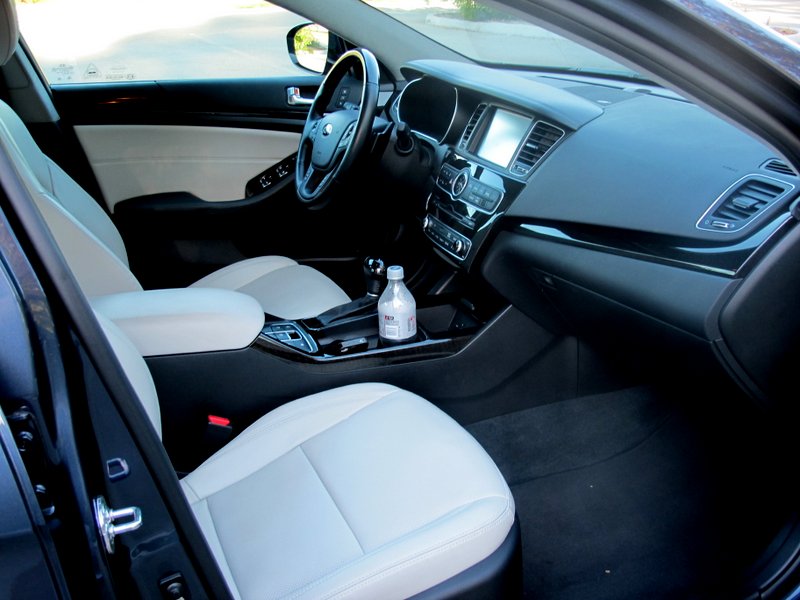 Written by James Hamel

Overview (Overall Grade after 8 Categories: B-)

The 2015 Kia Cadenza on the surface is a respectable entry into the lower entry level luxury segment but its success is hindered by two main problems. One is the fact that in the Kia line-up it is shadowed on either side by vastly superior vehicles in the form of the ultra-chic K900 and ever sexy Optima sedan. Those two sedans live in the limelight for sure while the Cadenza just remains the Kia with the funniest name and that's saying something. It is sort of like a Buick but without any of the charisma.

The other issue we had with our test Cadenza was with its abnormally long braking distances and the propensity for its brakes to fade after repeat use in stop and go traffic. It was noticeable that stopping distances  would get longer the more you had to use the brakes which is an unnerving feeling in a car that is supposed to be built to the highest standard. A Forte stops with more authority than this. Not to mention the immediacy with which the K900 comes to a halt. Honestly the Cadenza's worst enemies are the number of excellent cars within its very own brand.

Not to say that it would have trouble with the Chevy Impala, Dodge Charger, Chrysler 300, Lexus ES350, Lincoln MKZ, Volkswagen CC, Acura TLX or Volvo S60 for certain. Now, the Cadenza isn't a horribly bad car it just could use some work in a few key areas.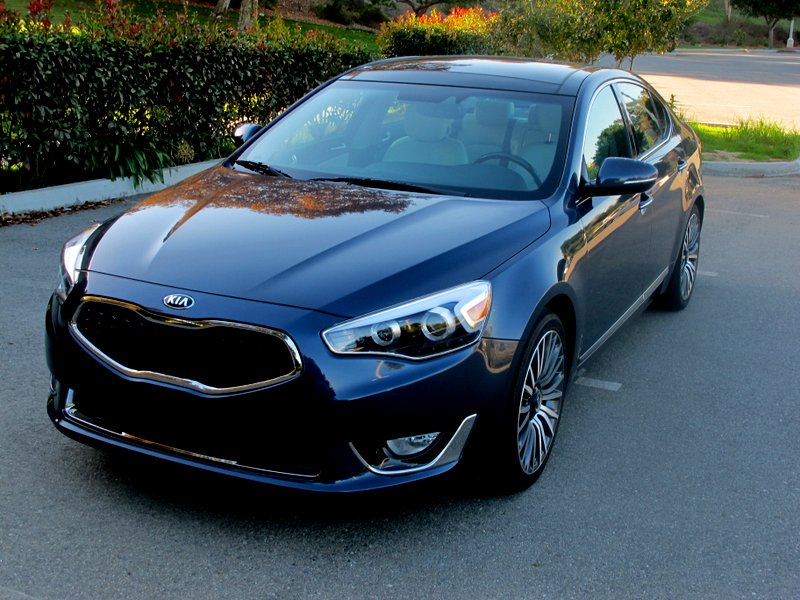 What We Loved about the 2015 Kia Cadenza


Standard 12-speaker Infinity Audio System is amazing


The 3.3 liter 293 horsepower/255 lb. feet of torque V6 is smooth and powerful


The Kia engineered 6-speed automatic works smoothly with the V6 engine


What We Didn't Love about the 2015 Kia Cadenza


The Weak Braking System


That in order to give the Cadenza a low entry level price all non-Limited models do without standard safety tech and even a First Aid Kit


That there is no point in buying a Cadenza unless you buy the Limited model since the base version lacks content you can get in a Kia Soul for half the price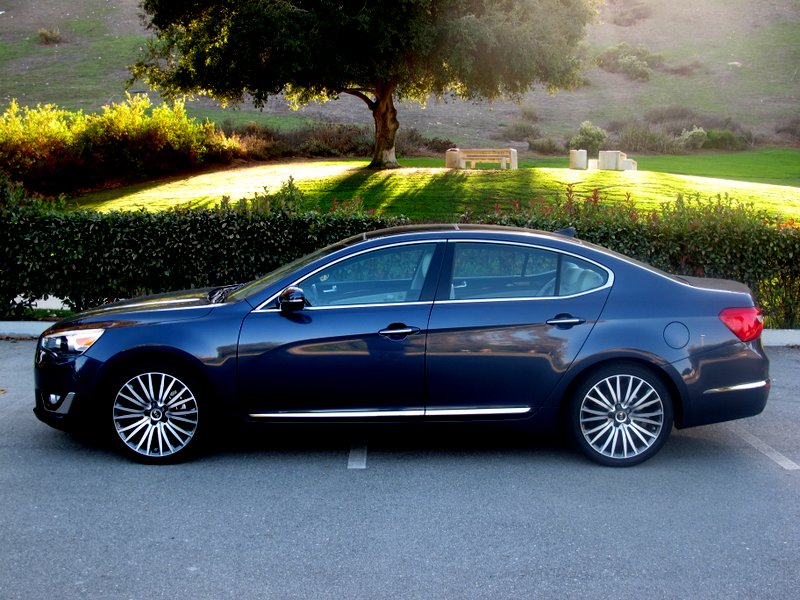 Exterior View (7 out of 10)
The oddly named Cadenza taken into isolation away from its flashier big brother the glam K900 and its sharp looking little brother the ever stylish Optima and have a sort of quiet appeal to its appearance. But unfortunately the Cadenza is sold by Kia dealers, no doubt parked in close proximity to many Optima and K900 sedans all of which outshine the looks of this shrinking violet wall flower.
Now to many people this may be a big appealing factor inherent to Cadenza ownership much as used to be the case in the more low key years at Buick. Yes, when we look at the Cadenza it looks like it should be parked in a Country Club parking lot. And if that's what Kia was going for they nailed their design brief but we like a little more visual excitement out of a car costing over $40,000.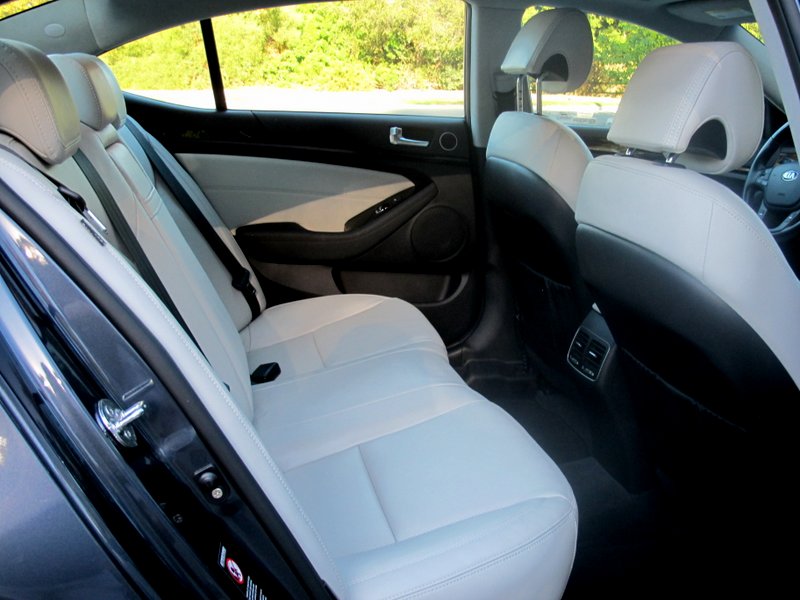 Interior Comfort, Quality and Overall Ease of Use (7 out of 10)
There is nothing really wrong ergonomically or from a materials quality perspective inside the Cadenza so much as a total lack of anything to really make it feel special in any way. The dashboard design, while logically laid out is lacking in imagination and any sort of style. Both the Optima and K900 have flashes of whimsy and "ooh-aah" magic to their interior designs.
We also wished that the Cadenza's touch screen came with a secondary control knob or something as hitting the right function took us quite a bit of concentration as, like 3 million other Americans, the author of this piece was born with a benign hand tremor that makes touch screen a hit or miss affair. And embarrassing to use in front of passengers. The navigation system had a voice activation system function that also didn't usually understand our verbal commands which is abnormal per our experience in other Kia models.
Our tester was a fully loaded Limited model which came fully loaded for just over $43,000 including standard Nappa leather seats which felt lovely but we highly recommend you do not consider the white Nappa Leather seats as our tester after only 5,000 miles had a driver seat irreparably scuffed and stained from too many auto journalist's backsides. There is also a very nice black, grey or dressy dark beige option for you to choose from. We suggest that unless you never wear jeans nor do any of your friends to avoid the white leather.
Still, the Cadenza does come with an extremely roomy 15.9 cubic foot trunk perfect for a bunch of golf club bags or suitcases for when the in-laws fly in to visit for a month. Just hope your in-laws aren't the nit-picky type and don't notice the wood trim Kia uses on the dash and center console as it is about as convincingly real as Britney Spears singing voice when performing "live." If this stuff was ever once a tree, we have no idea why Kia painted it to look like the wallpaper from your Grandmother's bathroom in 1978. Again, how did Kia get this right in the K900 and Optima yet not here?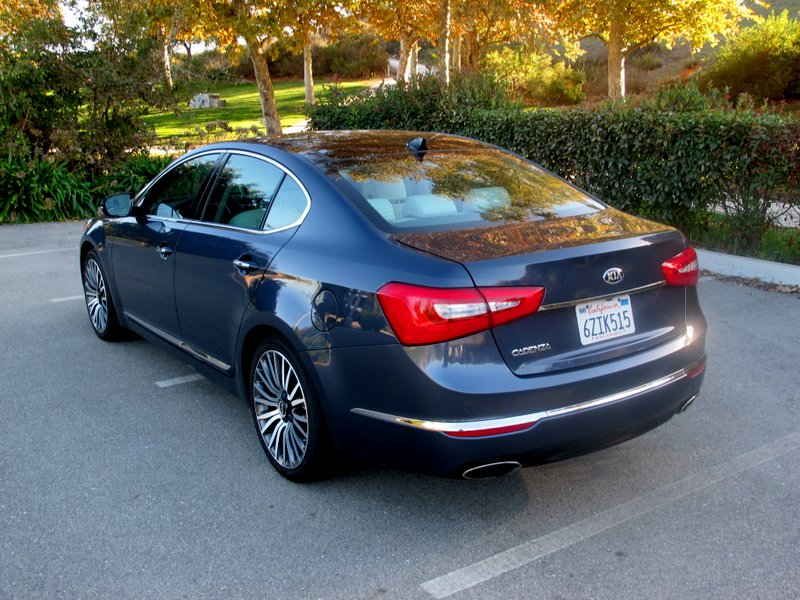 Technology (9 out of 10)
There is absolutely no question that we are huge fans of Kia's Infinity audio system upgrades which are available with the Cadenza, Optima, Soul, Sorento and Sedona minivan. In the Cadenza, the 12-speaker 500-watt 11-channel premium Infinity Surround Sound audio system with subwoofer is actually standard equipment even on the most basic model which starts at $34,900. To us, when ordering your Kia we think that the Infinity audio option is simply a must have second only to perhaps air conditioning to sustain owner happiness. It truly is crisp, clear and one of the best bargains among mainstream audio upgrades.
Then there is Kia's UVO infotainment system which as far as Infotainment systems go is pretty intuitive although the buttons on the touch screen could stand to be larger. In fact, utilizing the center infotainment screen would be easier if the Cadenza came equipped with a console mounted knob like you can find even in the Mazda3. We always think it's good to have secondary access to controls so you don't have to take your eyes off the road.
Fuel Economy (7 out of 10)
The 2015 Kia Cadenza is EPA rated at 19 city/28 highway and the only powertrain available is a pleasingly potent 3.3 liter 293 horsepower/255 lb. feet of torque V6 mated to a six-speed automatic transmission. An 18.5 gallon fuel tank ensured long cruising distances considering we averaged an agreeable 23 miles per gallon over the course of a week of mixed driving.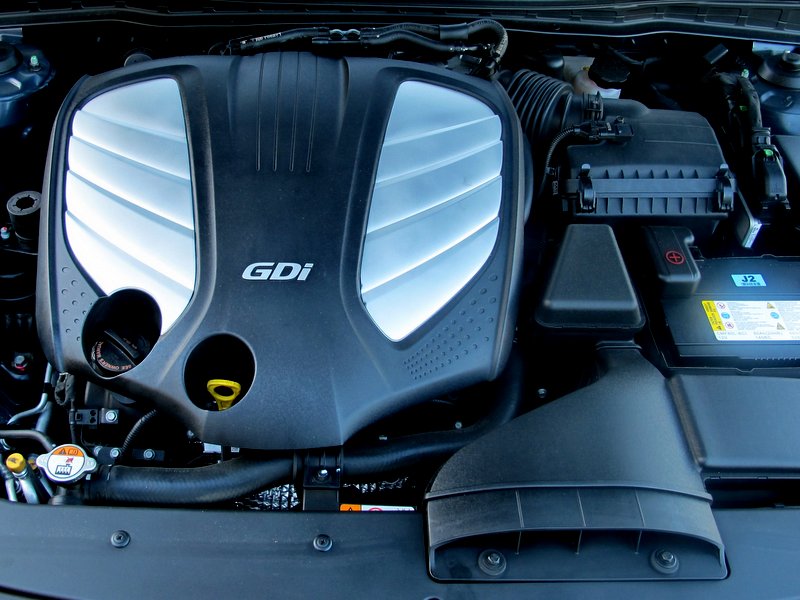 Predicted Reliability and Initial Quality Ratings: (9 out of 10)
According to J.D. Power and Associates, the Kia Cadenza is truly a winner when it comes to reliability and buyers gave it four out of five stars for its performance and design. For reliability the car received a perfect five star rating earning it an award from J.D. Power for Excellence among Large Cars. Just to put that in perspective other five star JD Power recipients included the Mercedes E-Class and the Lexus ES with the Toyota Avalon failing to meet the same standards as this Kia. Yes, a Toyota lost to a Kia in quality rankings
Safety (6 out of 10)
The 2015 Kia Cadenza was named a "Top Safety Pick" by the IIHS (Insurance Institute for Highway Safety) which says a lot about how well this car will handle the job of keeping occupants safe in the event of a collision. But we are sure anyone would agree that avoiding an accident is preferable to having one so we wonder why Kia allowed such woefully underserved and fade-prone brakes to the Cadenza. To be honest, the first time we stopped with any force our heart fell into our stomach as we were sure the car would never stop before plowing into the car ahead at a stop light. From that point on, we adjusted our driving style to suit. But that's still not safe.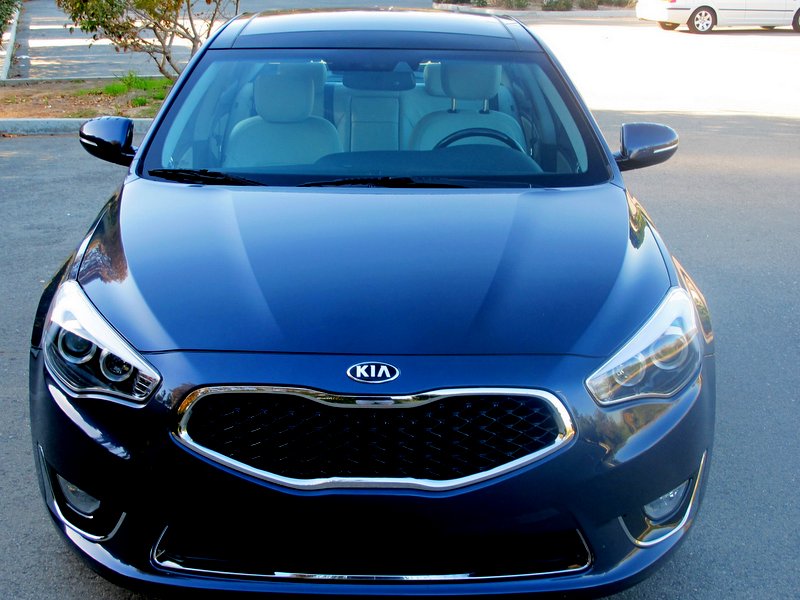 Performance (7 out of 10)
Our nearly $44,000 2015 Kia Cadenza Limited came with lots of bells and whistles that aid in making your drive that much safer such as hydrophobic windshield glass that repels rainwater in downpours, standard lane departure warning, radar cruise control and blind spot warning along with a set of HID (High Intensity Discharge) headlamps which swivel around corners to improve visibility. But even with all of that, we still have to return and harp on the Cadenza's woeful braking ability, long stopping distances and mushy feeling brake pedal.
It is odd as we have never experienced this sort of thing with any other Kia model from the K900 to the Sedona to the Soul to the Optima. But we did notice compared to those models that the Cadenza was clearly engineered for cocooning comfort and a calming drive, not sporty thrills on your favorite two lane backroads. This is a car your in-laws would find quite nice as it's refined and quiet inside, has a pillow soft ride and a hushed yet powerful 3.3 liter 293 horsepower/255 lb. feet of torque V6 which wouldn't be out of place under the hood of a Lexus.
Steering feel is numb and artificial with too many turns lock to lock when you are making a U-Turn or maneuvering out of tight parking spots. The 6-speed automatic responds to requests instantly, however, and the V6 will have you going quite fast very rapidly. The only thing is, don't get caught out travelling faster than your brakes can slow you down or you may be testing out how well the car performs in a real life crash test. Owners of the car, no doubt, will acclimate to the braking system and have no problems but for a person coming from another vehicle they could be caught out unaware by the system's performance.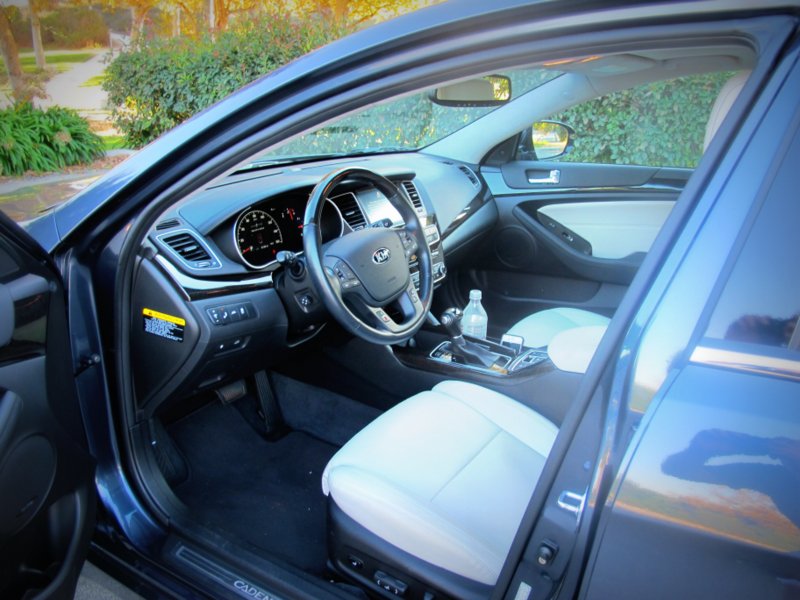 Pricing and Value for Money (6 out of 10)
While you in-laws may be impressed with the refinement and features in your new 2015 Kia Cadenza, they may be less than impressed that you spent $43,800 on it. Admittedly, in this Limited trim the Cadenza comes fully loaded with Nappa Leather Seating, in-dash navigation, premium Infinity audio, 19 inch alloy wheels, a panoramic sunroof, heated front and rear seats, heated steering wheel, ventilated front seats, dual zone climate control and much more. The problem? For less money you can get a fully loaded 2015 Acura TLX 3.5 SH-AWD model which nets you all weather traction and a much more enjoyable driving experience with a comparable number of amenities. That car alone could be the Cadenza's undoing.
 "The Final Numbers" and the Competition: (66 points out of 80)
Unlike our usual feelings after a week testing a Kia product, we were left feeling lukewarm about the 2015 Kia Cadenza Limited. Everything from the bland interior styling to the overly ambitious pricing and on down to the poor braking all conspired to make us feel a consumer would be better suited buying something else. In fact, we recommend you take a look at the Kia Optima SX Limited Turbo which is a hoot to drive, sexier and has a more "special feeling" interior. Other vehicles options in this price range include the 2015 Volvo S60 T5 Drive-E, 2015 Volkswagen CC V6 4Motion, 2015 Dodge Charger R/T with the Hemi V8 nicely loaded or a nice Lexus ES350 which we suspect was the car Kia was trying to emulate here.