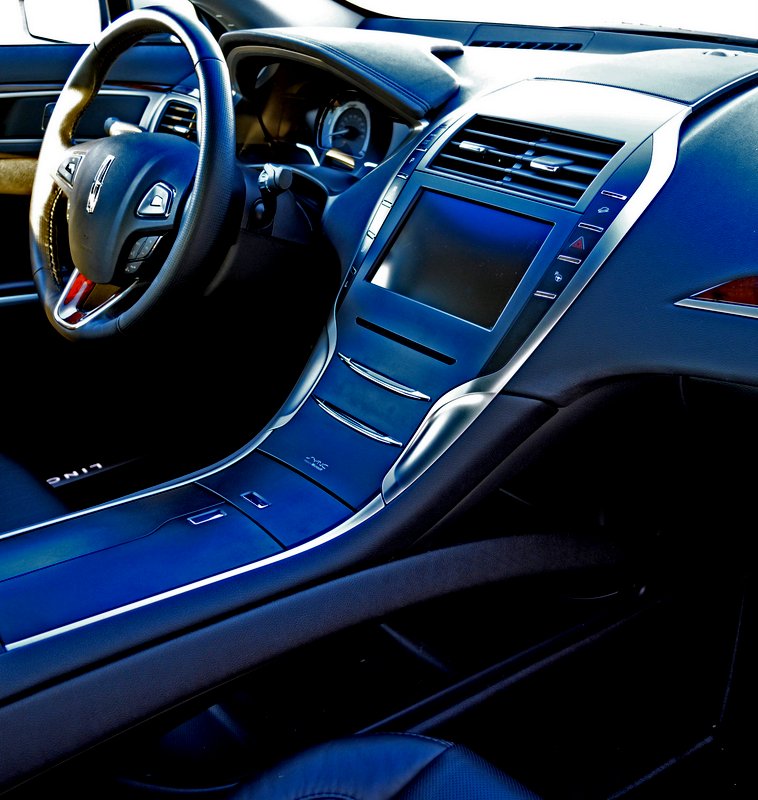 Written by James Hamel, Photos Courtesy of Jon Gala
 Overview (Overall Grade after 8 Categories: C)
From the outset the 2014 Lincoln MKZ has an uphill battle ahead of it considering the fact that it intends to compete head to head with such luxury sedan luminaries as the Cadillac ATS, BMW 3-Series, Audi A4, Mercedes C-Class and Lexus GS and ES models. Those are some tough competitors to beat as Lincoln definitely needs more unique looking models like this MKZ to set it apart from parent company Ford. Too many Lincoln models look like the Fords they are based on but no so the MKZ which bears no resemblance to its platform mate the Fusion. In fact, the exterior of the MKZ is rather Audi-like.
For 2014 Lincoln has added a new base engine to the MKZ line-up, a 2.0 liter Eco-Boost 4-cylinder rated at 240 horsepower/270 lb. feet of torque. Carrying over is the 3.7 liter gas V6 engine rated at 300 horsepower/277 lb. feet of torque and the gas/electric 4-cylinder from the hybrid which puts out a total system horsepower of 188 horsepower/140 lb. feet of torque. During our week long test of the MKZ we were driving a hybrid model so the following comments regarding performance apply to this model only.
So how did we think the MKZ stood up to its many foes in the entry level luxury sedan sales race? Well, we would definitely not call this Lincoln a luxury sport sedan as we would some competitors but that doesn't mean it doesn't have a place in the market. Some prize comfort, style and high-technology gizmos over all else and on that count the 2014 Lincoln MKZ doesn't fall flat.
What We Loved about the 2014 Lincoln MKZ


The exterior styling!


The panoramic sunroof makes the cabin feel airy and light


The fuel efficient hybrid powertrain


What We Didn't Love about the 2014 Lincoln MKZ


The lack of direct and accurate steering feel


At higher speeds the suspension makes the car feel jittery and nervous


The hybrid isn't exactly luxury car fast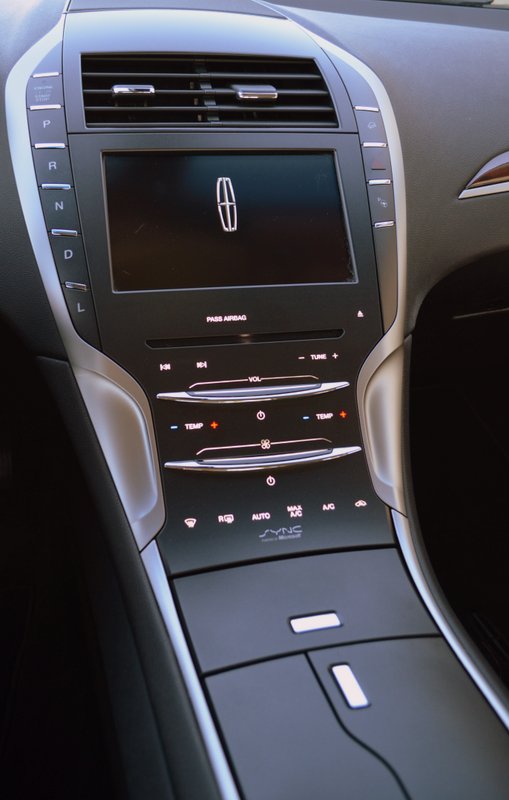 Exterior View (9 out of 10)
A true leap forward for the entire Lincoln brand, the exterior design of the 2014 MKZ sedan pulls off a very difficult trick especially at this end of the market. Not only does the car look sporty, futuristic and elegant all at once but it also manages to have no truly discernible inspiration from any competing vehicle. Truly, the exterior of the MKZ may be the most inspired part of the entire car but don't take that as a put down. This is one very stylishly unique but in no way off putting exterior design. The best way to describe it is Audi if they decided to take a chance with their exteriors every now and again.
Interior Comfort, Quality and Overall Ease of Use (7 out of 10)
At first glance, the 2014 Lincoln MKZ's interior is truly a fascinating piece of design work with many uniquely imagined controls and seats that look sumptuous and inviting. But then you notice the backseat really doesn't offer much in the way of terrific legroom and that in a few spots here and there the choice of materials could be more upscale. But we never tired of the unique gear shifter design which mimics that of the Ford Edsel by just being buttons on the dash marked "PRND" and "S" for the sport shift setting. Trust us, first time passengers will always "ooh and ahh" over that one.
So by moving the gearlever to the dashboard Lincoln's designers also managed to open up acres of free space down the center console for generously sized cupholders and cubbies all with soft close lids if you happen to be a person who appreciates clean surfaces. And there are few interior designs out there with more clean surfaces and as little clutter as that found in the 2014 Lincoln MKZ. Our one gripe is the same as one we have with any hybrid: the trunk space is compromised by the battery pack so it is 11.1 cubic feet. That is a decent figure but not great if you have four people who don't pack light aboard.
Expertly chosen wood and chrome accents dress up the dashboard so really out only complaint was the feel of some of the plastic switches. This Lincoln has an amazing interior but if it wants to go toe to toe with Cadillac they need to cut no corners, use their A game and decline using any obvious common Ford parts. We know they can do it. And guys, that's how Cadillac gets away with charging more.
Technology (7 out of 10)
Our 2014 Lincoln MKZ hybrid came standard with Sync and the MyLincolnTouch system which consists of an 8-inch center touch screen split into four segments for phone, entertainment, navigation and climate control settings and also offers passengers the ability to use the interior of the vehicle as a Wi-Fi hotpot. Yes, we are serious.  However, some of the buttons on the MyLIncolnTouch screen are pretty small and hard to hit directly while driving so we do with they would add some sort of control knob like they use in BMW and Audi models. Also, that keeps the screen from becoming covering in smudgy fingerprints, a pet peeve for all OCD people the world over.
We must admit that Sync which is what connects your smartphone and gadgets such as iPod to the vehicle worked flawlessly at all times. Our iPhone hooked up to the MKZ's Bluetooth almost instantly and it wasn't a long convoluted process to do so. And while we do appreciate cars that try to protect us, why are so many of the functions on the touch screen inaccessible on the move when that makes it so even a passenger can't access the navigation to put in an address. Seriously, stop the nannying and this is not directed only at Lincoln.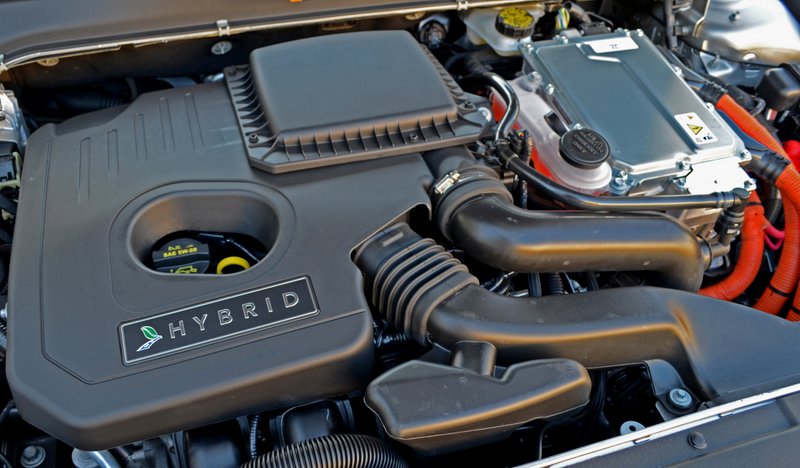 Fuel Economy (8 out of 10)
Our 2014 Lincoln MKZ hybrid was EPA rated for fuel economy at 38 city/37 highway and it has a 13.5 gallon fuel tank. The gas tank in the hybrid model is actually 3 gallons smaller than those on gas powered models due to the intrusion of the battery pack. During a week with us that mixed both around town and lots of highway miles we averaged out to a respectable 34.5 miles per gallon. Do note that we did not use any hypermiling techniques and always kept up with the flow of traffic. And occasionally, a little beyond that but we are not admitting to anything.
Predicted Reliability and Initial Quality Ratings (7 out of 10)
Okay, these results from J.D Power might seem confusing but we will break it down for you. According to their ratings system the MKZ received an overall quality rating of 2 stars out of five but a predicted reliability rating of 4 stars out of five. Huh? The answer lies, however, in various specific categories where the car either excelled or was slightly subpar. The MKZ got 2 stars out of five in features and accessories quality, mechanical quality, features and interior quality as well as body and interior quality. Full five star ratings were received by powertrain design and body and interior design categories. So it looks like there are a few mechanical bugs the MKZ has to work out but nothing alarming.
Safety (9 out of 10)
According to the IIHS (Insurance Institute of Highway Safety) the 2014 Lincoln MKZ is so safe that it was awarded its prestigious "Top Safety Pick Plus" award. Our test model also came with Lincoln's unique optional seat belt airbags which apparently really help keep body and face injuries to a minimum in accidents. The MKZ only narrowly missed a perfect score as the IIHS very difficult small front overlap test which mimics an impact with a pole of a tree resulted in not the top "Good" rating but rather "Acceptable."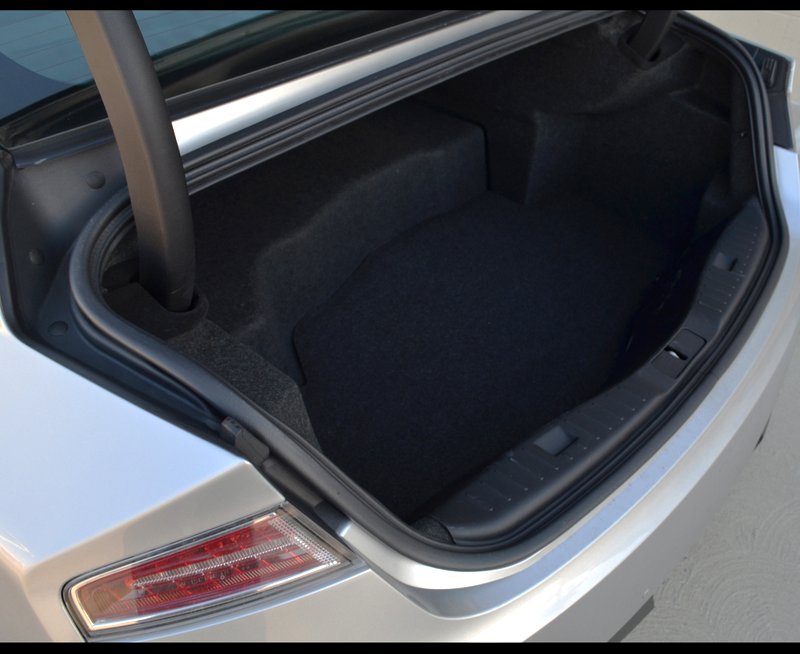 Performance (6 out of 10)
We are very sure that had we driven the 2014 Lincoln MKZ with either of its two available gas powertrains that our performance results would have been more positive. But the MKZ hybrid's 2.0 liter gas electric powertrain which puts out just 188 combined horsepower/129 lb. feet of torque which equated to somewhat leisurely acceleration especially to maintain the fuel economy this car promises. Floor it away from each stoplight and you will surely see your miles per gallon plummet precipitously.
All Lincoln MKZ models also come with the impressive sounding Lincoln Drive Control which includes a special adaptive damping system as well as a unique design for the electric power steering system. As for the dampers, the driver can select either comfort, normal or sport based on driving conditions and the power steering has been designed to be light and low speeds and sporty as speed increases. In addition, it also uses pull drift compensation technology to compensate for crosswinds or irregular road surfaces. Sounds terrific in theory.
In our experience, however, we found that the 2014 Lincoln MKZ was anything but sporty and that when we approached 75 miles per hour on an LA freeway the car would always get very jittery and nervous with the numb as Novocain steering offering up no way for the driver to feel comfortable behind the wheel. This was true no matter what setting we tried for the dampers and what at lower speeds and cushioned, soft ride at higher speeds turned into a wallowing demonstration of a car lacking any feeling of true control. This is not a sports sedan. It is, in fact, like driving a giant pillow that makes you nervous.
Pricing and Value for Money (8 out of 10)
Our 2014 Lincoln MKZ hybrid does lie at the value end of the luxury sedan market (it's all relative) thanks to its $35,8255 base price which includes heated leather seats, 18-inch alloys, dual zone climate control, 10 way power seats, adaptive LED headlamps, intelligent access that can tell you are approaching with the key in your pocket and unlocks the doors and illuminates 8 exterior security lamps plus push button start. On all fronts the MKZ does, in case you are interested, trump the 2014 Lexus ES300h hybrid with feature count and price. Also, the Lexus has no style but if your wardrobe is beige do check it out.
Rounding out the standard features is Sync, MyLIncolnTouch, Bluetooth, USB/i-Pod integration and Lincoln's 11-speaker premium audio system. There is an optional THX designed 700-watt 14 speaker audio upgrade that has two very large subwoofers as well for audiophiles. And if you love fresh air then click the box for the optional panoramic moonroof which Lincoln says is the world's largest. Our tester came with the RESERVE option group which added for $3,150 a back-up camera, reversing sensors, in-dash navigation and a blind-spot warning system and cross traffic alert.
We also added the seat belt airbags for $195 and the $2,250 Technology Package with adaptive cruise control, a lane keeping system, automatic highbeams that come on when you drive on a dark road and automatically turn off when another car approaches, a forward sensing system that warns you if you get too close to the car ahead as well as Park Assist. What is park assist? Well, it means that the MKZ can parallel park itself. You just pull up alongside a car in front of the space you want to fit into, press a button and watch as the steering wheel twirls
 "The Final Numbers" and the Competition (61 points out of 80: 76%)
After truly hitting one out of the ballpark with an amazing exterior design language and an interior that breaks free of the usual luxury sedan rulebook, the 2014 Lincoln MKZ was held back by certain detail issues that still keep it from being a contender among class leaders like the Cadillac ATS, Acura TL, Volvo S60, BMW 3-Series and Lexus IS. It's too bad, too, given the storied history of this American luxury brand. But we are absolutely positive that under the right leadership Lincoln can become the next Cadillac and be ready to take on the best in the world. They just aren't there yet.