Which online dealer has better prices and how do they compare?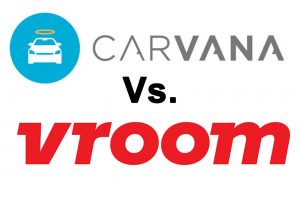 To our benefit and sometimes to our detriment, online shopping has changed our lives. From clothing to groceries, we can get just about everything we need (and lots of things we don't need) delivered to us without having to leave our home. And thanks to online car dealers like Carvana and VROOM, you can even purchase a new car without having to step foot in the dreaded used car dealership.
Until recently, many consumers may not have felt comfortable shopping for a car online the way they would shop for a sweater. After all, you can't just stick a return label on a car and drop it in the mail if buyer's remorse sets in. Then the COVID pandemic hit, and suddenly consumers became less reluctant to buy a vehicle online as it presented a safe, contact-free alternative to a brick-and-mortar dealership. Suddenly skipping the used car lot sounded like a great idea, even if it meant buying a car without even seeing it or taking it for a test drive.
So how do the major players in the online car sales industry, Carvana and VROOM, work? Is one better than the other? And most importantly, should you buy a car online? We have the answers to these pressing questions. (If you want to buy a car online but still want the option to test drive at a physical lot, check out our CarMax vs. Carvana guide).
What is Carvana?
Although
online car buying
might not have been buzzed about until recently,
Carvana
has been selling cars online since 2013.
Carvana
is an online-only
used car
retailer
that allows you to virtually complete every step of the
car buying process
including
trade-ins
and financing. There is no minimum credit score to purchase a car through
Carvana
's financing, but you need to make at least $10,000 per year. Above all,
Carvana
will deliver the vehicle right to your doorstep, although it may include a
delivery fee
if you reside outside of their coverage area. They even have
vending machines
throughout the country that allow you to pick your car up and skip the
delivery fee
, while experiencing what all the car
vending machine
fuss is about.
Carvana's inventory includes more than 15,000 vehicles, which have each gone through a thorough 150-point inspection process. You can search the Carvana website to filter by price, model, vehicle type, and other features. Because Carvana doesn't have any physical locations, prospective car buyers can't see or test drive a vehicle before buying it. Instead, Carvana gives you seven days to test drive the car in your real-world environment as opposed to the roads surrounding a dealership. If you don't like the vehicle or if you sense something is amiss, Carvana's return policy allows a full refund if you return the vehicle within seven days. Additionally, each vehicle comes with a 100-day, 4,189-mile limited warranty.
What is VROOM?
Founded in 2013,
VROOM
is an online
used car buying
site with inventory that is mostly under three years old. Like
Carvana
, you can conduct every part of the
used car buying process
online with
VROOM
and skip the trip to the
dealership
.
VROOM
's website includes 3,000 to 4,000 vehicles, and shoppers can use the site's search engine to find the car of their choice with filters such as make, model, price range, and body type. You can finance through
VROOM
and compare the rates of many partner lenders to find the best financing option. There is no minimum credit score, but buyers must make at least $21,600 a year to be approved for financing.
VROOM charges a non-refundable delivery fee between $0 and $1399. Customers picking up local inventory from Texas Direct Auto's store in Stafford, TX (a Vroom affiliate) are not subject to a delivery fee or electronic registration filing fee. Every VROOM vehicle comes with a limited warranty of 90 days or 60,000-miles along with one year of roadside assistance. Like Carvana, VROOM vehicles have a seven-day return policy.
You can also use VROOM to trade in your vehicle. You will either get an instant offer online or a guaranteed offer within one business day. Then a representative will schedule a time to pick up your vehicle for free, and a payment will be sent to you once your vehicle is received.
Carvana Vs. VROOM: Comparison
Here is a comparison of the
car buying process
at
Carvana
versus
VROOM
, which identifies the key similarities and differences between the two:
\Carvana and VROOM have many similarities including comparable limited warranty terms and return policies, vehicle inspection processes, a no-haggle pricing policy, and providing only vehicles that are accident- and damage-free with clean titles. They differ in that VROOM charges a delivery fee, while Carvana offers free delivery and more pickup locations if you are outside of their market coverage area. Additionally, Carvana also has more than three times the inventory of VROOM. Both retailers have similar search engine interfaces which include an option to see a vehicle's imperfections, but Carvana edges VROOM in its image quality by allowing for a 360-degree view of the vehicle.
Carvana Vs. VROOM - Vehicle Selection Comparison
iSeeCars examined the vehicle inventory at both
Carvana
and
VROOM
to identify differences and similarities.
Carvana vs. VROOM
Carvana
VROOM
Test Drive?

No

No

Limited Warranty

100 days or 4,189 miles from the time of your purchase

90 days or 6,000 miles from the time of your purchase

Vehicle History Report

Free

Carfax

report

Free

Carfax

report

Inspection

150 point inspection

Detailed

safety, mechanical and cosmetic inspection

Accepts Trade-Ins?

Yes

Yes

Physical Locations

No, just a

vending machine

in some markets to

pick up

purchased vehicles

No, though vehicles can be picked up from

dealership

in Houston

Return Policy

7 days (if you drive over 400 miles, you will be charged $1.00 for each additional mile)

7 days or 250 miles

No-Haggle Pricing?

Yes

Yes

Vehicle Quality

Clean title, accident-free, frame and disaster damage-free

Clean title, accident-free, frame and disaster damage-free

Delivery fee

Free within local markets or to

Carvana

pickup

locations, $199-$1,000 out-of-market

Non-refundable delivery fee between $0 and $1399

Inventory

15,000 vehicles

3,000-4,000 vehicles

Financing?

Yes, through

Carvana

(outside financing also accepted)

Yes, through 12+ partner lenders that allow you to compare rates (outside financing also accepted)

Delivery within the United States?

Yes for all states

No delivery in Alaska and Hawaii
Vehicle Age Comparison
iSeeCars compared the vehicle ages at both Carvana Vs. VROOM:
Carvana Vs. VROOM - Inventory Age Analysis (iSeeCars Study)
Model Year
Age
% Carvana
% VROOM

2019 or newer

up to 1 year old

8.2%

15.5%

2018

2 year old

15.8%

15.4%

2017

3 year old

27.6%

40.5%

2016

4 year old

13.5%

13.4%

2015

5 year old

10.0%

4.4%

2014 or older

6+ year old

24.9%

10.8%
VROOM
has a higher share of vehicles that are less than a year old and a higher percentage of three-year-old vehicles.
Carvana
has a higher selection of older cars that are five years or older. The two
retailers
have nearly identical percentages of two-year-old and four-year-old vehicles. If you are looking for an older vehicle,
Carvana
is likely to have more vehicles to choose from.
Inventory Mix by Vehicle Type
iSeeCars examined the inventory mix by vehicle type for the two online retailers.
Carvana Vs. VROOM: Inventory Mix by Vehicle Type
Body
% Carvana
% Vroom

Truck

4.0%

8.1%

Minivan

2.4%

2.3%

SUV

41.5%

43.8%

Car

52.2%

45.7%

Luxury

20.2%

24.7%

Non-Luxury

79.8%

75.3%
When examining the vehicle types, the two have a similar mix of inventory. However,
VROOM
has more of its inventory devoted to
pickup
trucks, while
Carvana
has more cars. Both have similar percentages of both Minivans and SUVs as well as similar breakdowns for luxury vs. non-luxury vehicles.
Pricing Comparison
Which provides better deals? iSeeCars also compared the pricing of vehicles at both dealership types:
Carvana Vs. VROOM Pricing Comparison
Dealer Group
Avg Price
Pricing Relative to Market Value

Carvana

$18,665

+3.9%

VROOM

$20,352

-3.2%
The average price of a car at
Carvana
is $18,665, while the average price of a
used car
from
VROOM
is $20,352. Shoppers looking for
used cars
under $20,000
can likely find a vehicle at either
retailer
. The minor price difference could likely be attributed to
VROOM
having slightly newer inventory. Shoppers looking for a deal will have better luck finding one at
VROOM
, while the average price of each vehicle is 3.2 percent below market value.
Carvana
, on the other hand, has its cars priced at 3.9 percent above market value.
Best Deals at Carvana
iSeeCars also identified the vehicles that can be found with the greatest savings at
Carvana
.
The vehicle with the most savings is the Lexus NX 200t compact SUV, which provides savings of 5.8 percent. It's joined by four additional luxury vehicles.
Best Deals at VROOM
Here are the vehicles with the greatest discounts at
VROOM
:
The vehicles that provide the most savings with
VROOM
are four luxury vehicles and one mainstream SUV, the Ford Escape. The vehicle with the most savings, like
Carvana
, is a Lexus SUV: the Lexus RX 350 midsize SUV with an 8.9 percent discount.
Bottom Line
When it comes to the
best places to buy
used cars
, both
Carvana
and
VROOM
provide
hassle
-free alternatives to
traditional dealerships
and allow you to conduct your entire
car buying experience
online. Skipping the
dealership
for a contact-free buying experience is especially valuable in the
Covid
car buying
era, and not having to deal with a
used car
salesperson
is also an added bonus.
Carvana
has more inventory, which might come in handy if you have your eye set on a particular model. And although
VROOM
has lower prices on average, you should also factor in the $599
delivery fee
which might make the prices more comparable. The vehicle inventory for both
Carvana
and
VROOM
appear on the iSeeCars.com
car search engine
, and you can filter to "online-only cars" to compare the inventory from both
retailers
.
Regardless of which online used car dealer you choose, you should always have the used car inspected by a trusted mechanic during your seven-day trial period. Consumers should always do their research and use online tools like the iSeeCars VIN check report to help you get all the information you need to find the best car at the best price.
Be sure to check out some of our other used car shopping guides to help you make the right car purchase for you:
If you're interested in a
new car
or a
used car
, be sure to check out iSeeCars' award-winning
car search engine
. It uses advanced algorithms to help shoppers find the best car deals across all vehicle types and provides key insights and valuable resources, like the iSeeCars
free VIN check
report. It also includes
automotive
inventory from online car
retailers
like
Carvana
and
VROOM
.
Filter by make, model, price, and special features to find the best deal on your next vehicle.